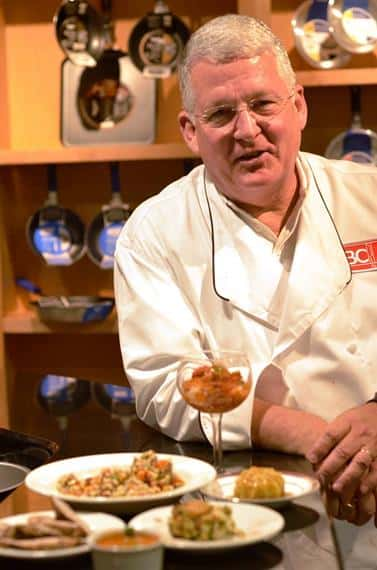 "Eating is Neccesity...But Cooking is an Art"
The Ultimate Chef Experience With Chef Alan Pyles
New Condensed Offering
For Two Guests

Immerse yourselves in an unforgettable one-on-one experience which will explore the within our kitchen, where you'll get a taste
of every day meal preparations using products and kitchen equipment readily available to most everyone!
We will be making many of items that we make and serve daily at the restaurant—
All of which you'll quickly master and be able to use for years to come!
We will discuss and demonstrate real life techniques, tips and shortcuts for the everyday person.
Guests will leave with the knowledge to quickly provide quality meals like our award-winning restaurant.
While we fully appreciate and respect the "food art" world and all other current trends, we focus on the true staples of the culinary world—
focusing on the taste, delivery, economics and ease of the home (and professional) chef.
The Chef Experience Includes:
Two Nights in either the Monroe or Jefferson Suite.

10 Course, Wine Paired Chef Tasting Dinner for Two- First Night

Full Breakfast both mornings- Available 9am-10am.

Private "one-on-one" time in the kitchen (aproximate 5 hrs.) with Chef Alan-
Second Day 10:30-3:30.

Watch and participate in learning and/or reviewing new Techniques, shortcuts, focus (and master) your core (then expand as desired)


We will review "must have" items in every kitchen- and share some recipes, key sourcing methods useful for every "Household Chef"




Our goal is to help everyday people, cook and prepare restaurant quality meals...everyday.







Private Chef Experience
We will only book one party per "Experience".
Guests however are welcome to gather friends and book as a group.


Special Condensed Package - $795.00 (*)
(Prior 10 years- was $1,500.00 with an added day and "touism time" allocated)
Thurdsays- Chef Tasting Dinner
Fridays- 10:30-3:30 Kitchen time with Chef Alan
- or-
Sundays- Chef Tasting Dinner
Fridays- 10:30-3:30 Kitchen time with Chef Alan
(*) Applicable room tax to be added. Gratuity guest option.
For booking information, e-mail Chef Alan with dates options and he will get back to you!
Through our relationship with Epitourean Travel:
Listed by Virginia's Tourism- "Virginia is for Lovers"- 12 Places to Stay.
Must Visit- "Virginia Road Trippers"
"Taking it Easy At Three Historic Virginia Inns"- Beacon Newspaper
Featured Virginia Cooperative Magizine – 2017
Featured in Inn's Magizine- Summer Gourmet 2016